Welcome to The Crooked Chimney! We are located in Lee, New Hampshire.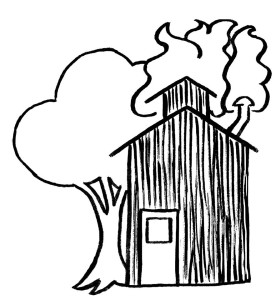 The Crooked Chimney will be on hiatus for a few years after the 2015 syruping season so that David can pursue a graduate degree. We are currently sold out of all of our syrup. Thank you so much for making the past 6 years possible. We look forward to returning to the sugaring industry in the future, and we will update this website when we do so. While we're taking a break, please check out our friends at The Vermont Birch Syrup Company in Glover, Vermont!
Our logo was drawn by Katie McMahon, a very talented local artist. Check out more of her work here and here, and contact her at KatieMcMahonArt (at) gmail (dot) com.